Ultimate Support Systems are just that - the ultimate stage stands ever made. They offer a wide variety of support systems for musical, medical, and other applications, and the Ultimate Support Team is a great group of people whose mission goes way beyond top-notch gear...please visit their web site by clicking on the logo above.
IronHorse extends to them the best of wishes and heartfelt thanks for the SUPPORT!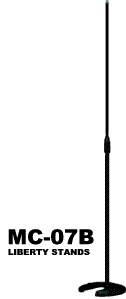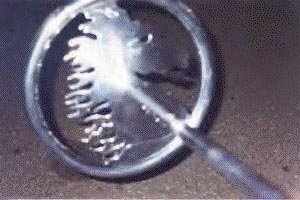 I use a Colorado Custom IronHorse mic stand (The photo doesn't do it justice!), while all other stage mic stage stands are the MC-07B Liberty model with additional booms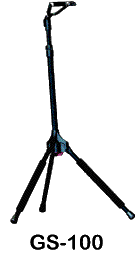 Ronnie: "We are using the GS-100 guitar stands from Ultimate. I do a lot of changing guitars on stage, putting them down, switching from acoustic to electric, picking them up...and there are two cables, a quarter-inch and a synth cable snaked together, coming from my electric. I love the fact that there are no 'cradle arms' to tangle your cables on."
Durable black padding covers all surfaces that touch your instrument, and they are absolutely stable. Extra features (demonstrated below) are a latching rubber strap, notches for your guitar picks, one touch height adjustment, locking legs, and the whole thing folds up into a very compact configuration for storage and transport.