KEEL is the most famous and commercially successful project of my career so far, and no doubt the reason that many of you are visiting this site. A lot has been said and written about this band, and now it's my turn to put it in my own words.
March 1984: I finally quit beating the dead horse that was called STEELER and decided I would put together a band that would fulfill my vision of what the ultimate hard rock/heavy metal band should be. I wanted good songs with killer guitar riffs and dual/harmony solos, a high-energy choreographed stage show, and musicians that would kill and die for the opportunity to compete in the big time. There were several personnel changes before the classic KEEL lineup was assembled, but Marc Ferrari, Bryan Jay, Kenny Chaisson, Dwain Miller and Ron Keel were and always will be KEEL.
From Day One I ruled the band with an iron fist. I had enough success from STEELER to afford me the ability to call the shots, and the guys in the band worked their asses off to help realize the dream. We rehearsed from noon to midnight, pouring our sweat muscle and blood into being the best, and it paid off. Our debut show was April 27th, 1984 at Perkin's Palace in Pasadena CA in front of 1500 rabid metal heads and we just kept steamrolling ahead from there.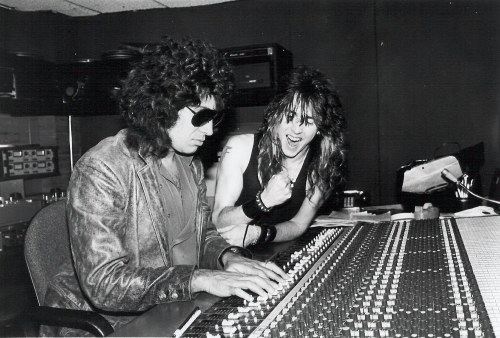 recording "The Right To Rock" with Gene Simmons producing
By July we were at Prairie Sun Studios in Northern California recording "Lay Down The Law". Mike Varney of Shrapnel Records had enough faith in me and the project to give me free rein to produce the album as I saw fit, and the end result was a collection of tracks that not only fulfilled my dreams and visions but landed us a major label record deal and Gene Simmons from KISS as producer of our major label debut.
My career has been blessed with many magical experiences, and I've got to include two significant moments in the KEEL history. The first was in the studio recording "Lay Down The Law"...I was in the control room producing, and we'd gotten sounds for the drums, bass and both guitars; I told the guys to just play something so I could get a blend of the instruments, and Marc Ferrari started playing the riff that ended up being "The Right To Rock". The other guys just joined in, jamming with him, and I looked at the engineer and yelled "ROLL TAPE!!!" He did, and that ended up being the blueprint for our all time classic rock anthem.
The second was the day I met Gene Simmons. You gotta understand, when I was fourteen my first rock concert was a KISS show, and I was in the front row. That night I caught a Gene Simmons guitar pick; little did I know that nine years later we would not only work together but he would become a friend and mentor.
When we got signed, our record company had given me a list of potential producers, and I picked Gene Simmons off the list, so they set up a meeting. I arrived on a Thursday afternoon at the Beverly Hills Hotel where Gene was staying, and walked right by him in the lobby: He'd just cut his hair for a part in the movie "Runaway" and I didn't recognize him. He said "Ron Keel? Hi, I'm Gene Simmons."
We went up to his room and talked for a while; he wanted to hear some new material, so I plugged in a cassette of that jam track of "The Right To Rock" - there were no vocals on it, so I just stood up in Gene's face, in his hotel room, and screamed the lead vocal at him. He pushed 'stop' on the cassette player, looked at me, and said: "I'm going to produce this album. And we're going to start recording Tuesday."
And we did just that. We re-did three songs from "Lay Down The Law":"Speed Demon", "Let's Spend The Night Together" (the Rolling Stones cover) and "You're The Victim (I'm The Crime)" (originally titled "Tonight You're Mine"). We recorded three new songs: "The Right To Rock", "Back To The City", and "Electric Love" (I wrote the lyrics to all three in the same night). And three Gene Simmons songs: "Easier Said Than Done", "So Many Girls, So Little Time" and "Get Down" (the only KEEL song we never played live).
"The Right To Rock" was released on January 25th, 1985, and promptly became the fastest selling debut album in A&M Records history, cracking the BillBoard Hot 100 charts, and earning us Best New Band honors in Circus Magazine, Hit Parader, and Metal Edge.
We toured with Triumph, Loudness, Accept, Joan Jett and Queensryche; the pinnacle of that tour was my sold-out homecoming show in Nashville at 'One For The Sun' with Autograph, Van Zant, and Steppenwolf opening the show. And then it was time to explore The Final Frontier.
"The Right To Rock" was recently re-released on CD and can be ordered by clicking on the album cover above.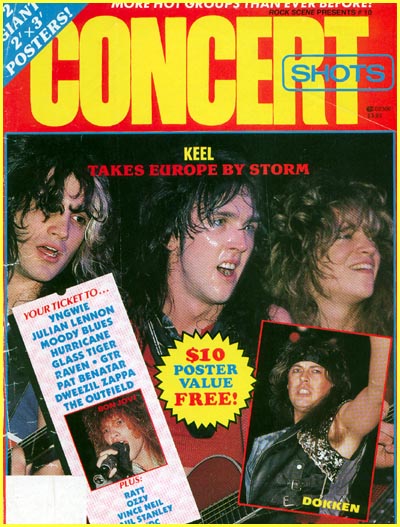 I remember one day the label called the studio to talk to Gene Simmons (he produced "The Final Frontier" also) and told him we were over budget. Gene said, "I'll write you a check, and I'll take this record to another label tomorrow and sell it for twice the budget." They left us alone after that. I also remember Danny Goldberg, the president of our label, coming all the way to New York to check on our progress and the first thing he heard was "Nightfall" (Marc Ferrari's brilliant classical piece) and he said "What the hell is this? Segovia on drugs?" (he was expecting to hear heavy metal). That record did contain some bone-crushing metal, like "Raised On Rock", "Rock N' Roll Animal", "Arm & A Leg", and "No Pain No Gain", but it also had other textures like "Because The Night" & "Tears Of Fire" (the album's two singles) and the aforementioned classical piece. It also features guest appearances by Joan Jett, Jaime St. James (Black N' Blue), Gregg Giuffria (Angel, Giuffria, House Of Lords), Mitch Perry (Yngwie's replacement in Steeler) and Michael DesBarres (Silverhead, Power Station).
Our world tour started with Dio in Helsinki Finland and ended eight months later with our sold out headline tour of Japan. In between we toured with Queensryche, Quiet Riot, Accept, Krokus, Triumph and more, but two high points were opening for Van Halen in front of 86,000 people at the Texxas Jam in Dallas, and landing the opening slot at Aerosmith's big comeback show at Foxboro Stadium outside of Boston.
'The Final Frontier' was our highest charting disc, and my personal favorite of all the KEEL recordings. In early 1987 we were back in the studio recording our self-titled followup album.
Sonically our best effort due to stellar production by Michael Wagener, this disc led to tour dates with Motley Crue which included our big homecoming show at the Coliseum in Phoenix, and the east coast leg of Bon Jovi's "Slippery When Wet" mega tour capped off by a sold out three night stint at Madison Square Garden.
Next came the the opportunity to participate in the soundtrack to a movie called "Dudes". We recorded a song called "Rock & Roll Outlaw" with producer Kevin Beamish which was the featured song in the film and on the soundtrack, and filmed a great video for the track with director Penelope Spheeris ("Wayne's World").
What followed in the next two years reads like a VH1 'Behind The Music' show: tensions and disagreements within the band, drug problems, personnel changes, contract disputes, management changes, and when the smoke cleared in 1989 we recorded the final all new KEEL disc, "Larger Than Live".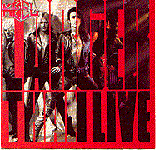 Keyboardist Scott Warren (currently with DIO) and Lead Guitarist Tony "The Kid" Palmucci (currently with Dee Snider) came on board to help fill the shoes of Marc Ferrari,who left to follow his own musical visions, and we recorded six new studio tracks and rounded out the disc with six live tracks. A fan favorite, this CD was re-released in 1998 by DeRock Records.
Hard Rock/Heavy Metal spent much of the 1990's in hibernation while other styles of music dominated. I immersed myself in Country Music and went to Japan to do the Saber Tiger project, while Dwain and Kenny built families and were involved with other projects; Bryan continued playing increasingly more challenging and heavier music and has now completed work on his music degree and doing the guitar work for the VH1 Def Leppard movie, while Marc became a successful songwriter/music publisher and guitarist for Cold Sweat & Medicine Wheel.
In 1998 we reunited at a recording studio in Phoenix to complete work on "Keel VI: Back In Action". DeRock records was set to re-release "Larger Than Live" and asked if we had anything we could include as a bonus track. Upon listening to the stuff in the vault, I felt there was some unfinished material that our fans might enjoy so we got together at a recording studio in Phoenix to complete work on "Keel VI: "Back In Action". It was a wonderful feeling to have the five original members back in the same room, smiling, hugging and sharing memories from those magical times. It was a very special group of men that had the chemistry, talent, and work ethic to rise up and compete with the best in the business, and I will always take immense pride in what we accomplished.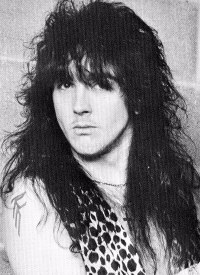 Ron Keel - voice, guitar, keyboards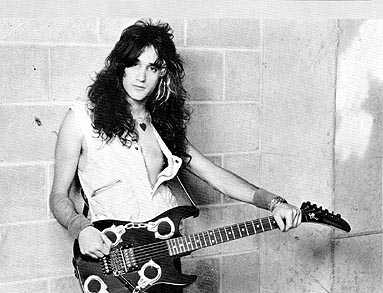 Marc Ferrari - lead guitar & vocals
visit Marc's MASTERSOURCE Web Site:

Bryan Jay - lead guitar & vocals
and visit the Bryan Jay Web Site: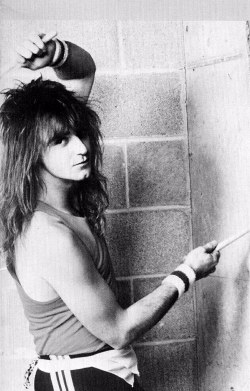 Dwain Miller - drums & vocals

Kenny Chaisson - bass guitar & vocals

to view more KEEL photos visit
For exclusive KEEL merchandise go to the

Visit the Japanese KEEL web site:



NEXT STEP: