the early years






Atlanta, Georgia: A small black and white TV on a hardwood floor...a scrawny kid just two years old sitting next to his big sister who was consumed with excitement because The Beatles were on the Ed Sullivan show. Three and a half minutes later, little Ronnie Keel knew what he wanted to do with his life.

I wanted to play music.

I began immediately; my first microphone was a hairbrush, my first stage a twin bed. I consumed massive amounts of Rock 'N Roll from my sister's 45 rpm phonograph, and Country Music from my father's albums.

I had my first guitar lesson when I was six. Pop rented me a Jumbo Gibson acoustic that was bigger than I was and took me to this music studio. My instructor was an old guy that looked like a mad scientist, and he was beating on the music stand with his baton trying to get me to understand all those strange markings on the sheet music while those heavy steel strings cut into my tender young fingers.

I didn't touch a guitar again until I was fourteen.

I turned instead to the drums. I begged my parents for a drum set and sure enough there it was in the living room on Christmas morning, a shiny red kit out of a mail order catalog that cost my folks $79.99. I then began years of torturing my parents by playing them day and night, and inviting my friends (anyone who played a musical instrument) over to the house to make noise with me.

My first mentor was our school's band teacher, Mr. George B. Schmitt. He hammered me into shape, often losing his temper, his face turning red as he taught me the value of discipline, timing, and tone; he was a working musician who played in the Phoenix clubs at night, and he spent a lot of after school sessions with me sharing his wisdom and his cigarettes. He encouraged me to learn a variety of musical instruments and styles, and allowed me access to the band room so I could practice and even rehearse with my first bands. He was a great teacher and a great friend, and his name appears in the special thanks of almost every album I've ever made.

During my teenage years my musical education diversified in many different directions. At fourteen I was lead singer and drummer in my own band called IMPACT, gigging at backyard parties, school dances, and a Phoenix-area amusement park called Legend City. I attended West High School in Phoenix Arizona which had a great music program - I played a wide variety of instruments, drums & percussion, trumpet, French horn, even the tuba, and participated in the marching band, the orchestra, the jazz ensemble...and in my sophomore year, the guitar class.

I had a strong desire to write songs, and usually when the history teacher thought I was taking notes I was writing lyrics. Lennon/McCartney and Jagger/Richards were early influences, as were bands like The Eagles And Creedence Clearwater Revival.

When my sister went off to college she left behind a cheap acoustic guitar that found a home in my closet. One day, after seeing my guitar player surrounded by a throng of young girls who breathlessly watched him play "Stairway To Heaven", I bought a set of strings and a Mel Bay how-to-play-guitar book. I learned quickly, and after mastering "Mary Had A Little Lamb" and "Twinkle Twinkle Little Star" I tossed the book and started improvising. By the end of that first day, I was playing my own bastardized version of "Stairway To Heaven". Years later I actually learned to play it right.

I loved the drums and had no intention of being a guitar player, I just wanted to be able to write my own songs. One night about eight months later at the Legend City gig, a drummer friend of mine was in the audience and I invited him to jam. I picked up one of the guitars and strapped it on, went out front and did "Proud Mary" and was immediately stricken with 'frontman fever'. I have played drums in two bands since, one rock and one country, but since that first time I came out front, center stage has always been my home.

ZYZZX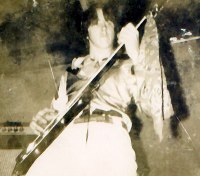 At fifteen, I was playing bass guitar and singing lead in this three piece power trio - classic rock like Skynyrd, Rush, Bad Company, etc.

DEDLOK

The first Alice Cooper tribute band (I played lead guitar), we also did some originals and Zeppelin etc. Most significant memory: Halloween, 1977: We did a free gig at a place called A.R.C.H. (Arizona Retarded Children's Home) and the audience was about a thousand mentally retarded folks in Halloween costumes. We were sloppy, out of tune, and they loved us...after the gig, a mentally retarded girl came up to me and touched my arm, and she was crying, saying, "Thank you for playing for us, most people ignore us, but you showed us that someone cares..." Then and there I knew I'd made it. All the profile and prestige is nothing compared to that.

BLUE STEEL

A brief but incredible experience. This band needed a drummer asap, and my girlfriend knew the lead singer's girlfriend and I was in. We never even rehearsed before I played a big gig with them at the Arizona State Fair; the lead singer, a man named Jeremy Cloude, just turned around and said "Watch me," and I did. Jeremy was a primary influence on my 'frontman persona', the way he moved like a spider on stage and controlled both the audience and the band with his stage moves. The keyboardist was Paul Bruce, the brother of Alice Cooper guitarist Michael Bruce, further strengthening my Alice connection; after the first string of State Fair gigs we had a record deal with Capitol and I was shopping for a Trans Am before I had a driver's license. Unfortunately, Jeremy and Paul got into a fight over a missing microphone, and blew the record deal.

NIGHTFALL

By seventeen I was in Texas playing in my first good band, Nightfall (this would seven years later become the title to Marc Ferrari's brilliant classical piece on 'The Final Frontier' album - the name comes from the classic Isaac Asimov science fiction story). I played lead guitar and sang lead vocals in this band, which was my first all-original group.

TOUCH

Not the signed act called 'Touch' but one of the thousand bands that used that name during the 70's. I played lead guitar and sang lead vocals in this power trio which was my first working nightclub band.

Jim Daley

Jim Daley was perhaps my greatest musical mentor. I was in TOUCH, and my best friend Josh Ertel was hitchhiking to a rehearsal when he called me and said he'd just been given a ride by some hot shot record producer/studio owner and could he bring him over to see us practice. I of course said yes, bring him on.

Jim came in and started listening, turning knobs, suggesting musical changes, basically producing us. He gave me his number and left.

Soon after that I finally wrote my first good song, a ballad called "I Never Told You", and I called Jim Daley and said I had a great song and could I come over and play it for him. He gave me his address and told me to be there at one o'clock on Saturday.

I showed up at his house all decked out with my guitar in hand, and he was right at the beginning of a session rehearsal. He told me to have a seat on the couch, and I sat there and watched for hours as he built this song with the rhythm section, guitarist, keyboardist, and a couple of female singers. I was enthralled with his production process, how he took this song that was in his head and got the players to translate his ideas into music. Jim was a great singer but played no musical instrument so he had to implement his vision in verbal terms, and damn it he was brilliant. By the end of the day the song was ready to cut; the drummer and bassist were locked into their patterns, the guitarist and keyboardist had woven their chords and solos together, and the two singers harmonized like angels.

At five that afternoon, he dismissed them all and I figured it was my turn to blow him away with my song. He turned to me and said, "It's been a long day, I'd like to spend some time with my wife now. See you."

Welcome to the music business.

Things got bad and things got worse; my band broke up, I was getting evicted, I was broke and starving. Then the phone rang.

It was Jim Daley, asking if I wanted to make a record.

That's happened a lot in my life, and it's taught me to keep the faith and never give up hope - the next phone call could be a record deal, the next envelope could be a royalty check.

Anyway, Jim proceeded to move me into his guest room and work my ass off.

We started rehearsing for a variety of projects; pop songs he was trying to market, a futuristic concept album, even Spanish jingles for Mexican radio. He would make me learn different styles on the guitar, and he used me on all his sessions because I could play drums, bass, guitar, and sing. In return he gave me a place to stay, kept me full of food and beer, and helped me cut my first demo: four of my own original songs. He believed in me when no one else did, and without his guidance, help, and friendship my life and career might have taken a different turn.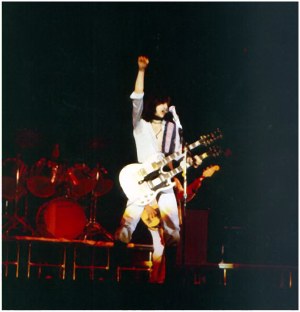 Texas to Nashville 1979

I was ready to take the next step, and needing funds to finance my dream; my father offered me a four month construction job in Texas and I went back to the Lone Star State for four months.

My buddy Josh Ertel went with me, and that summer we mixed 21 tons of concrete by hand and helped my Dad lay the ceramic tile in the Mount Pleasant High School. While there I financed another four song demo on which I played all the instruments and wrote the tunes, put together a promo kit with live color photos and bought myself a nice business suit and boots. Then I started calling all the record company offices in Dallas.

These were just distribution points where albums were shipped to and fro, but if the sign on the door said Capitol Records I was gonna knock on it. All those doors were slammed in my face except one.

I walked into the MCA Records office of a man named Brad Hunt. He explained that he couldn't do anything for me but would listen to my pitch anyway. There I was, a well dressed well-spoken kid with a state-of-the-art promo kit and a demo tape that I had written, produced, played, and sung. He said "Kid, you're gonna be a star someday. I can't help you but I know somebody in Nashville who can." He hooked me up with an A&R man named Leon Tsilis and I fired up the Chevy and moved to Nashville.

I immediately fell in love with Music City and was passed on by MCA (six years later that label would end up putting millions into the KEEL project). I decided to stick around Nashville anyway, and soon signed my first publishing deal and became a member of ASCAP (a relationship that has remained profitable to this day).

By this time my money from the construction job was gone and I got a job washing dishes at a seafood restaurant. Times were hard; back in those days when I broke a guitar string I would walk down to the music store and shell out 90 cents for a replacement. One day the guy behind the counter said, "I'm going to quit my band tonight, and they're going to need a guitar player." I went with him to rehearsal that night.

TABU

The band consisted of three black guys on bass, drums, and lead vocals and a white drummer. The singer, Kris, was an African American version of David Bowie, flamboyant and androgynous and one helluva singer and frontman. Little Bill played bass, Big Bill played drums, and Kevin played keys. These guys were really good, and Kevin talked them into letting me join the band even though I was the long-haired white kid who didn't know a lot about soul. They sure taught me - in the next nine months we created about fifty songs together, and there were no limits: we did funk, rock, soul, metal, punk, anything we wanted to, and those guys gave me an invaluable education about singing, harmony, composition, and were also some of the best friends I've ever had. It was a wonderful experience. And then came the night I'll never forget.

It was snowing hard in Nashville, and we were jamming, playing 'Funk 49' by the James Gang, when Kevin started missing notes and got this blank look on his face. And Kevin never missed notes. Then, right there in front of us, he dropped dead face-first on the keyboard. He had a cerebral hemorrhage and a heart attack at the same time - it was not drug-related, but a hereditary disease that had been undetected.

He was 23 years old.

He had been a friend and mentor, he had believed in me and fought to get me in the band. He was our musical director and one of the best guys I've ever known. And in his passing he taught me a lesson that has become a cornerstone of my philosophy: Each song could be your last. Play it like there's no tomorrow. God Bless you, Kevin.

We tried to keep the band together, but it was never the same after that. And then I started getting the calls from LUST.

NEXT STEP:


LUST