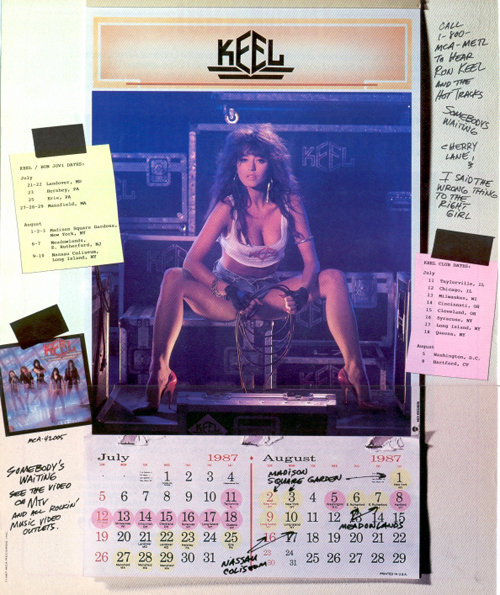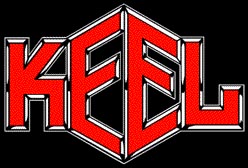 1984-1989
My official Bio claims something like "Nearly 3 million million albums sold - hit songs on radio and MTV include 'The Right To Rock', 'Tears Of Fire', 'Because The Night' - sold out world tours, opening slots with Bon Jovi, Motley Crue, Aerosmith, Van Halen, etc."........and while I'm extremely proud of all of my other bands and projects, you can bet that those accomplishments were achieved with a band called KEEL.
A lot has been written about KEEL - a simple Internet search will open up a Pandora's Box of information, official biographies and statistics; respected sites such as VH1.com and RockDetector.com (a great source of information on just about any artist in the genre) will tell you their version of the KEEL history.
They're all wrong.
Well, this is MY site, so here you can find MY version; and yes, I'm biased, but facts are facts and opinions are like, well you know - everybody's got one. I will give you a condensed chronicle (the action-packed 5 years during KEEL's heyday could fill a book, too much to tell here) of what really went down. I know, I was there - and you will be able to clearly differentiate the facts from the opinions.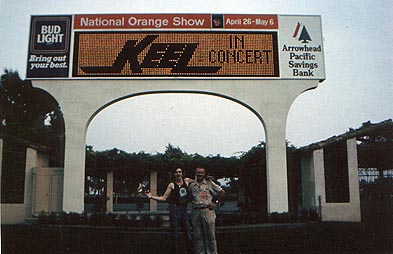 Me and Roy Keel finally get our name in lights

MARCH 1984: As the Steeler Era comes to an end, the KEEL Era begins immediately. I had made up my mind that I was going to take charge and try to captain my own ship, and I handpicked a hungry and talented group of guys to go to work with me on this new project. The original lineup was me, Marc Ferrari, Kenny Chaisson, ex-Steeler drummer Bobby Marks, and guitarist David Michael-Phillips.

*Right here is where the 'Black Sabbath Era' occurred, for your chronological reference

APRIL 1984: KEEL records their first two-song demo ('Lay Down The Law; and 'Speed Demon'), and performs their debut gig to a sellout crowd of 1500 at legendary Perkin's Palace in Pasadena CA. Many rock stars visited us backstage, including Tony & Geezer from Sabbath, Lita Ford, and Carmine Appice; Carmine recruited our guitarist Dave for his new band King Kobra, so this was the only show he did with KEEL.
MAY 1984: David was promptly replaced by Bryan Jay, whose first gig was KEEL's Hollywood debut at the sold-out Roxy Theater.
JUNE-JULY 1984: KEEL plays to packed houses throughout Southern California and begins work on their debut album, "Lay Down The Law", for Shrapnel Records. Recording takes place at Prairie Sun Studios with Yours Truly producing. On the first day of the session, we had gotten tones on the drums, bass, and guitars, and I needed the guys to play something together to balance out the levels (I was in the control room, where the producer should be), and I asked them to just jam a little so I could blend the instruments. Marc Ferrari launched into this monster power-riff that we had never heard (it ended up being the music for "The Right To Rock") - the guys joined in - my jaw dropped, and I turned to the engineer, Mikey Davis, and yelled "Roll Tape NOW!" and we recorded that jam on the spot.
AUGUST 1984: Before the "Lay Down The Law" album was even mixed, our managers called us back to LA to showcase for some major labels that were interested in the act. We set up at Sound City rehearsal studios, brought in the suits and ties, and proceeded to rock them. When the smoke cleared, we were signed to Gold Mountain/A&M Records, who did not waste any time: they give me a list of potential producers for our major label debut, and KISS' Gene Simmons' name was on the list - I said, 'I want Gene. Hook it up."
So they set up a meeting with the God Of Thunder himself. I went to meet him at the Beverly Hills Hotel, we talked and went up to his room. I inserted a tape of the jam we had recorded that first day of the "LDTL" session - there were no vocals on the tape - and I stood right there and sang "The Right To Rock" along with the tape, in his face...as soon as the first chorus was over, he hit the STOP button, looked at me, and said "I'm going to produce this album. And we're going to start Tuesday."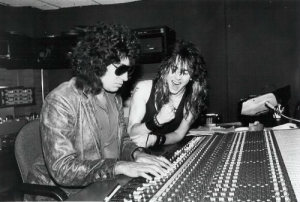 in the studio with Gene Simmons recording "The Right To Rock"
Bobby Marks was replaced by several drummers in rapid succession - first, Fred Coury (who went on to play with Cinderella); then Barry Brandt from Angel, and then Stephen Riley. Tracking for "The Right To Rock" album began at the Record Plant in LA; just a couple of weeks had elapsed since the "Lay Down The Law" sessions, and we only had three new tunes, so we re-recorded three from "LDTL" and recorded three Gene Simmons compositions (9 songs was enough for an album in those days). Before the basic tracks were even finished, Steve Riley quit to join W.A.S.P. and was promptly replaced by Dangerous Dwain Miller.
SEPTEMBER/OCTOBER 1984: Recording continued in New York City - we had to work around KISS' touring schedule and Gene's availability. Bryan Jay and I learned a lot about the Big Apple during our idle times...Recording wrapped up in mid-October and we headed home to LA. My life quickly became a blur - my daughter Kelly was born on October 25th, and I was consumed with being a first-time father and a first-time rock star, balancing TV appearances, interviews, meetings, photo sessions etc. with changing diapers - rocking my baby and getting ready to rock the world.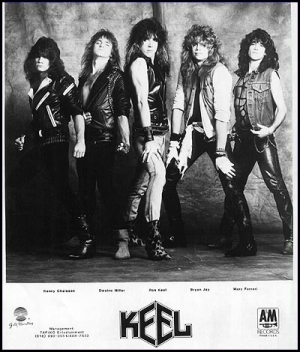 The first A&M KEEL promo shot

JANUARY 1985: Just ten months after the band was formed, our second album, "The Right To Rock" was released and became the fastest-selling debut album in A&M Records' history, cracking BillBoard's Hot 100 Chart. The title track was an instant anthem on MTV and radio.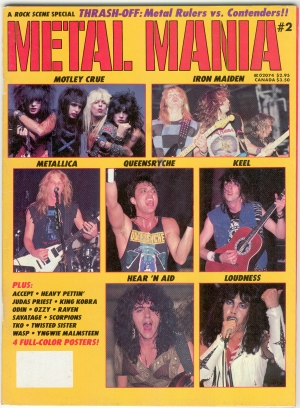 FEBRUARY-SEPTEMBER 1985: KEEL tours non-stop, headlining clubs and opening in theaters and arenas for Triumph, Dokken, Y&T, Loudness, Queensryche, Accept, Helix, & Joan Jett. The act wins "Best New Band" honors from Metal Edge Magazine, Circus Magazine, and Hit Parader Magazine. The label made a half-hearted attempt to promote the Simmons composition "Easier Said Than Done" as a follow-up single but there was no second video or official second single from that album. The advent of portable recording gear enabled us to write on the road, resulting in a wealth of strong new material for our next album.
OCTOBER 1985: Intense songwriting sessions and grueling rehearsals as the band reached its creative peak. Gold Mountain Records moved us to MCA Records to collect a substantially larger advance.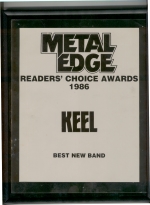 Metal Edge Magazine 'Best New Band' award
NOVEMBER/DECEMBER 1985: KEEL commences recording "The Final Frontier" in Los Angeles, and again continues the sessions in New York at Electric Lady Studios. This time, we brought in some friends to make guest appearances on the album, including Joan Jett, Jaime St. James, Mitch Perry, and Michael Desbarres. Once again, Bryan Jay and I wreak havoc in the Big Apple on our off days while Gene is off touring with KISS. KEEL wins 'Best New Band' honors in major publications Metal Edge, Circus, and Hit Parader.

JANUARY 1986: My first trip to Europe is a promotional tour, doing interviews, TV and radio appearances, and promoting our upcoming album and European tour.
MARCH/APRIL 1986: "The Final Frontier" is released to critical acclaim and impressive sales, as "Because The Night" becomes a hit video and single. KEEL embarks on a six-week sold out tour of Europe opening for Dio in 14 countries.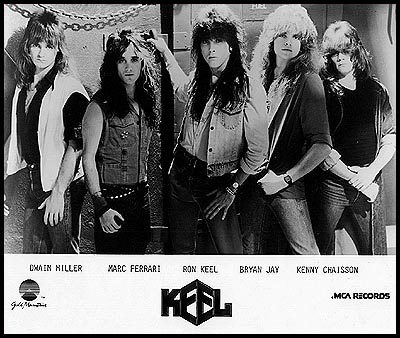 The first MCA KEEL promo shot
MAY-JULY 1986: Keel opens shows for Triumph, Y&T, tours with Quiet Riot.
JULY 1986: KEEL opens for Van Halen at the 1986 Texxas Jam in front of 86,000 people at the Cotton Bowl in Dallas.
AUGUST 1986: KEEL opens for Aerosmith for their triumphant reunion/homecoming at Sullivan Stadium in Foxboro Massachusetts
JULY-SEPTEMBER 1986: KEEL tours North America as opening act for Queensryche. Our good friends Black N Blue were the opening act on some of these dates. Once again Marc & I wrote a lot on the road, stockpiling songs for our next album. "Tears Of Fire" is released as the second single from "The Final Frontier" and rockets into the Top 5 on many major US radio stations. A 5-song collection of singles, also entitled "Tears Of Fire", is released in Japan to fuel our impending headline tour of Japan.
"Because The Night" single, KEEL songbook, KEEL Komic Book
OCTOBER-NOVEMBER 1986: KEEL embarks on a sold-out headline tour of Japan, performing in Osaka, Nagoya, and two nights in Tokyo. This experience ranks very high on my all-time favorite accomplishments, as the band, the crew, the fans, and every associated with KEEL in a business capacity was firing on all cylinders and had galvanized into a well-oiled metal machine.
NOVEMBER-DECEMBER 1986: Immediately upon returning from Japan, the band begins pre-production on the next album with Producer Michael Wagener. Recording begins on the 3rd major label release. I felt that I had at last come into my own as a vocalist and Wagener's production suited my voice and my music brilliantly.
MAY 1987: The Wagener-produced self-titled "KEEL" album is released, with "Somebody's Waiting" the only single to be released from this disc.
JUNE 1987: KEEL is invited to open the first shows on Motley Crue's "Girls Girls Girls" tour. The second night of this tour was extremely special for me: it took place at the Coliseum in Phoenix, Arizona, where I had seen all my concerts growing up as a kid...to return there in front of a sold-out crowd, with my family and friends in attendance, was nothing short of spectacular for me.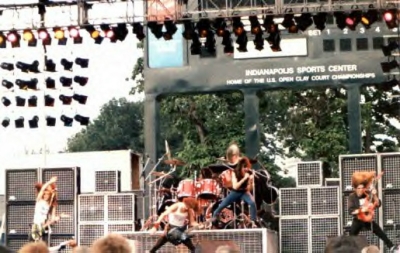 JULY-AUGUST 1987: KEEL headlines clubs across the US, and opens for Bon Jovi on the final leg of their marathon 'Slippery When Wet" tour. This tour is highlighted 3 sold out nights at Madison Square Garden, and culminates with 2 nights at the Meadowlands in Bon Jovi's home state of New Jersey. (This period in time is immortalized in the full page BillBoard Magazine ad that appears at the top of this page).
NOVEMBER 1987: The "DUDES" Movie Soundtrack is released, with KEEL's "Rock N Roll Outlaw" as the featured track.
1988: The band's progress is blocked by the customary pitfalls in the music biz: contract disputes, personnel changes, substance abuse, musical differences. Marc Ferrari departs to form his own band, Ferrari, which becomes Cold Sweat and signs with MCA. For more on Cold Sweat visit http://www.cold-sweat.net
KEEL forges on, replacing Marc with keyboardist Scott Warren. Recording commences for "Larger Than Live": two sold-out shows at the Roxy in Hollywood provided live tracks, and six studio songs were cut to complete this half live/half studio album. During this process Bryan Jay left the band and Tony Palmucci was brought in to finish the album.
SEPTEMBER 1989: "Larger Than Live" is released by Gold Castle/Gold Mountain Records. At the final video shoot for "Dreams Are Not Enough", I am the only remaining original band member, and I made the painful decision to move on to my next project, FAIR GAME.
KEEL had fought hard and left a lasting legacy of great music, incredible shows, hard work and good times. I am intensely proud of everything we accomplished, and the friendships and memories that will last a lifetime. The most frequently asked question is, will the band ever reunite: the answer is, we have talked about it and worked on it, and if it does happen, you'll hear about it here first. Thanks to all the KEELaholics who have shared the love of this band and kept the dream and the music alive - YOU GOT IT.