back to Main Page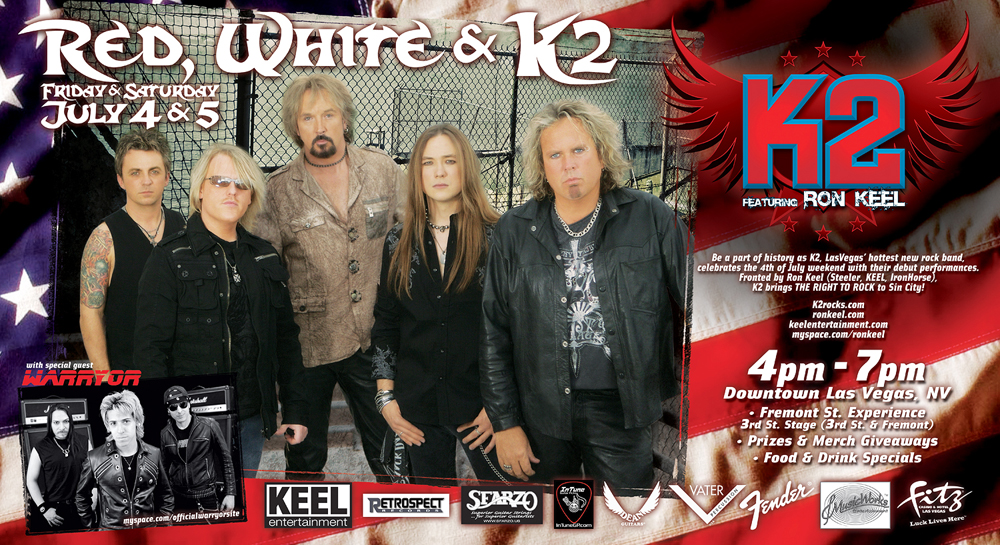 Myspace: http://myspace.com/K2rockband
E-mail: K2@keelentertainment.com
Official Site: http://K2rocks.com
Ladies and gentlemen: K2. I am very proud to introduce my new band with a select number of live performances this summer, beginning with our debut concert in Las Vegas on the 4th of July.
After performing a recent string of gigs with local Vegas rockers "Highwire", I came to the decision to take some of those musicians and form a band that can satisfy my musical hunger AND stay true to the quality that my fans have come to expect from me.
K2 will not only be showcasing material from throughout my career, including all the KEEL standards and music from my other projects such as IronHorse and Saber Tiger - we will also be concentrating on new original music, setting our sights on recording my first new original rock album in many years. Make no mistake about it, the musical direction will be hard-hitting melodic rock.
After our Las Vegas shows on July 4 & 5, we'll be heading to Rocklahoma 08 to fill the headline spot on Sunday July 13 on the Retrospect Records stage a 10:15 pm (right between Tesla & Queensryche).
As has happened many times in my career, I am extremely lucky to be surrounded by an incredible group of musicians.
I have been especially fortunate to have worked with some of the best guitarists in the business: Yngwie Malmsteen, Marc Ferrari & Bryan Jay, Akihito Kinoshita, Robert Marcello, Jay Rusnak - and now that tradition continues with K2 guitarist Johnny Douglas. Recently relocated to Las Vegas from Chicago, this 24-year-old phenomenon brings a formidable array of weapons to this band: a diverse musical background, an endless arsenal of licks and chops, a wealth of drive and creative energy, great harmony vocals and stage presence, and a burning desire to entertain anyone who's lucky enough to be in the audience. Get more familiar with Johnny by visiting his Myspace page: http://myspace.com/johnnydmusic
Many of my fans know that for several years I have seldom been seen on stage without my secret weapon: keyboardist Sam McCaslin. Sam has worked with me from Rock4Xmas to the Ron Keel Band, Keel/Shortino, Sin City Exiles, Country Superstars, and K2 would not be complete without him in the lineup. In addition to my projects, Sam has worked with MSG & XYZ, and is also the President/CEO of Retrospect Records, largest 80's Hard Rock/Metal/AOR re-issue label in the world. Visit http://retrospectrecords.com
The lineup is rounded out by the monstrous rhythm section of Shon McKee (drums) and Brad Hagen (bass). After having seen Shon in Highwire, and then getting the chance to work with him, it was obvious that he was the best rock drummer in Vegas; it's a bonus that he's a super nice guy with a killer attitude and work ethic which provide K2 with a solid musical foundation. Visit Shon on-line at http://myspace.com/shoninvegas
Brad Hagen returns to the stage with K2 after several years of focusing on building his own on-line business MusiciansAdvocate; prior to this he paid his dues in local Kansas City bands before moving to L.A. and then Vegas. In addition to being a great bass player, brad has the same drive and passion for perfection that I have and all the guys in K2 share.
We've just launched the new web site: http://K2rocks.com
As well as our official Myspace page: http://myspace.com/K2rockband - both sites, like the band, are just getting started and will be updated often to include new photos, news, merchandise, music and more.
I want to dedicate this project to the friends and fans who have continued to encourage me to indulge my rock n roll fantasies, I hope we can all enjoy K2 and whatever the future holds.
Let's Rock...
K2 LIVE IN CONCERT:

Friday July 4th & Saturday July 5th: Las Vegas, Nevada
Fremont Street Experience - 3rd Street Stage
4-7 PM - with special guest Warryor (http://myspace.com/officialwarryorsite)


AT ROCKLAHOMA 2008 - SUNDAY JULY 13 - 10:15 PM
For Details, Info, Tickets etc. CLICK HERE:



back to Main Page