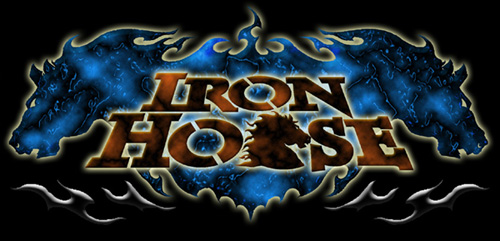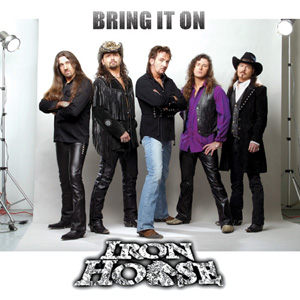 May 31 2006: After six years, two brilliant CD's, hundreds of shows and thousands of memories, it is with great regret that I must announce that I am giving up the reigns of my band IronHorse.
This difficult decision has been a long time coming; I informed my bandmates on our sixth anniversary as a band, May 31, that I can no longer continue to stand centerstage with this project. Gaetano Nicolosi, Geno Arce, Jay Rusnak, and Dean Lehman are some of the best friends of my entire life, and the love I have for these guys and the music we made, and the support of our awesome fans, are what's kept me hanging on through the hard times IH has endured these past few years.
Six years ago I had a dream of putting this band together and attempting to succeed with this bastard style of music which we came to know and love as 'country metal', 'redneck rock n roll', 'hard rockin' southern country metal', and other such descriptions. It was and is my belief that this style of music and the basic concepts upon which IronHorse was built are as viable and relevant as they were a half dozen years ago and I also believe that the two IronHorse CD's I recorded will stand the test of time and we'll still be enjoying them many years from now.
Everyone has their own opinions about what went wrong. Ask the five guys in the band and you'll get five versions of why we have not been able to achieve the dream that we shared with each other and our wonderful loyal fans who have gone through the ups and downs with us. The only version I can accept is mine, because as a 30 year veteran in this business I think I've learned a little about how this game should be played.
Rather than dwell on the things that didn't go our way, I choose to celebrate the friendships, the music, and the memories that will last a lifetime. In my humble opinion, all of us are much better off than we were when we started, and I'm proud of the choices we've all made even though they might have cost us the opportunity to raise IronHorse up to the level we wanted to reach.
It is my understanding that the band will continue in some form with a new vocalist. I have seen the future IronHorse shows announced at http://www.myspace.com/charliewayne and if this is the direction the guys want to go, I wish them all the best - Charlie is a dear friend of mine for over 20 years, cut out of the same mold. He is already familiar to many IronHorse fans, he's a great singer, musician and songwriter, he knows the IronHorse material inside out and would be the perfect choice for this gig. I will let IronHorse make any official announcements regarding their next frontman, but no matter what happens I encourage the fans to give the new lineup a chance and enjoy whatever comes next for IronHorse.
I intend to continue performing Ron Keel shows, both alone and with a band. I will continue writing songs and singing them to whoever wants to listen, wherever and whenever I can. I am currently in Las Vegas preparing for next week's 4 Ronnie Lee Keel shows, and editing the forthcoming Ron Keel DVD compilation. I am also involved in another production in Las Vegas which I will announce when the time is right.
To all of our friends, fans, and families that have cried with us, cheered for us, and shared this dream: I'm sorry I couldn't make it come true. I gave it all I had.
Thank you all for ONE HELL OF A RIDE. I love you.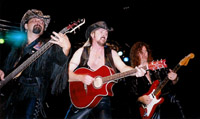 "…this outfit knows how to rock. In the fine tradition of Lynyrd Skynyrd and The Allman Brothers, but with their own style firmly in place, Iron Horse has recorded a gem of an album for fans of the southern genre. (If you) enjoy a little country or southern rock in your listening repertoire, then I couldn't recommend much better than this.

"

MelodicRock.com

"Iron Horse is a band on the verge of greatness, with great players and great songs."

Gritz Magazine

"Get ready for some of the best southern rock I've heard in many years."

GetReadyToRock.com

"Endlessly entertaining...highly recommended."

Hard RoxX 2 Internet Magazine

"(Their) unique sound has fans from across the board clamoring for more.

"

StrikeUpTheBands.net

"…when Iron Horse covers Steve Earle's "The Other Kind," they bring it all together. It's rock, it's country, it's blues, but like all good music, it's played with conviction and honesty. The naysayers should eat dirt, and the curious should buy the disk and give it a whirl."

HardRockHaven.net