1989-1992
As I have said elsewhere and often, I have always been motivated by a sense of adventure. Nowhere in my history has that been more evident than with FAIR GAME, my follow-up band after KEEL.
It would have been easier to put a new group of guys together and call it KEEL. But easy has never been my style.
I always loved female rockers. I had worked with Joan Jett on KEEL's 'Final Frontier' album and co-wrote the title track for Vixen's sophomore effort 'Rev It Up', and I wanted to do something new and different that had never been done.
FAIR GAME was all that.
I became the first rock frontman with an all girl backing band, and these girls kicked ass:
Janna James - Bass & Vocals
Tina Listo - Lead Guitar & Vocals
Eva Marie - Lead Guitar & Vocals
Stephanie Leigh - Drums & Vocals
After over a year of intense rehearsals, recording sessions, photo sessions, and promotion, FAIR GAME made their live debut at the 1991 Winter NAMM Convention, and went on to tour extensively throughout Southern California and Arizona. Perhaps the band's most significant achievement was appearing in the film "Bad Channels" and landing two songs on the movie's soundtrack album (the film's score was composed and recorded by Blue Oyster Cult). This album has been re-released several times and remains in circulation to this day.
This was definitely one of my all time favorite projects; some of the best songs and vocals of my career reside within the songs I recorded with FAIR GAME. I am pleased to offer the majority of these tracks for download on the TUNES page of this web site.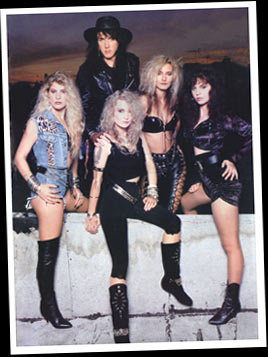 FAIR GAME as the centerfold in the British rock magazine KERRANG